Nile Rodgers and Robert Randolph Talk About Their Juneteenth Concert, Unityfest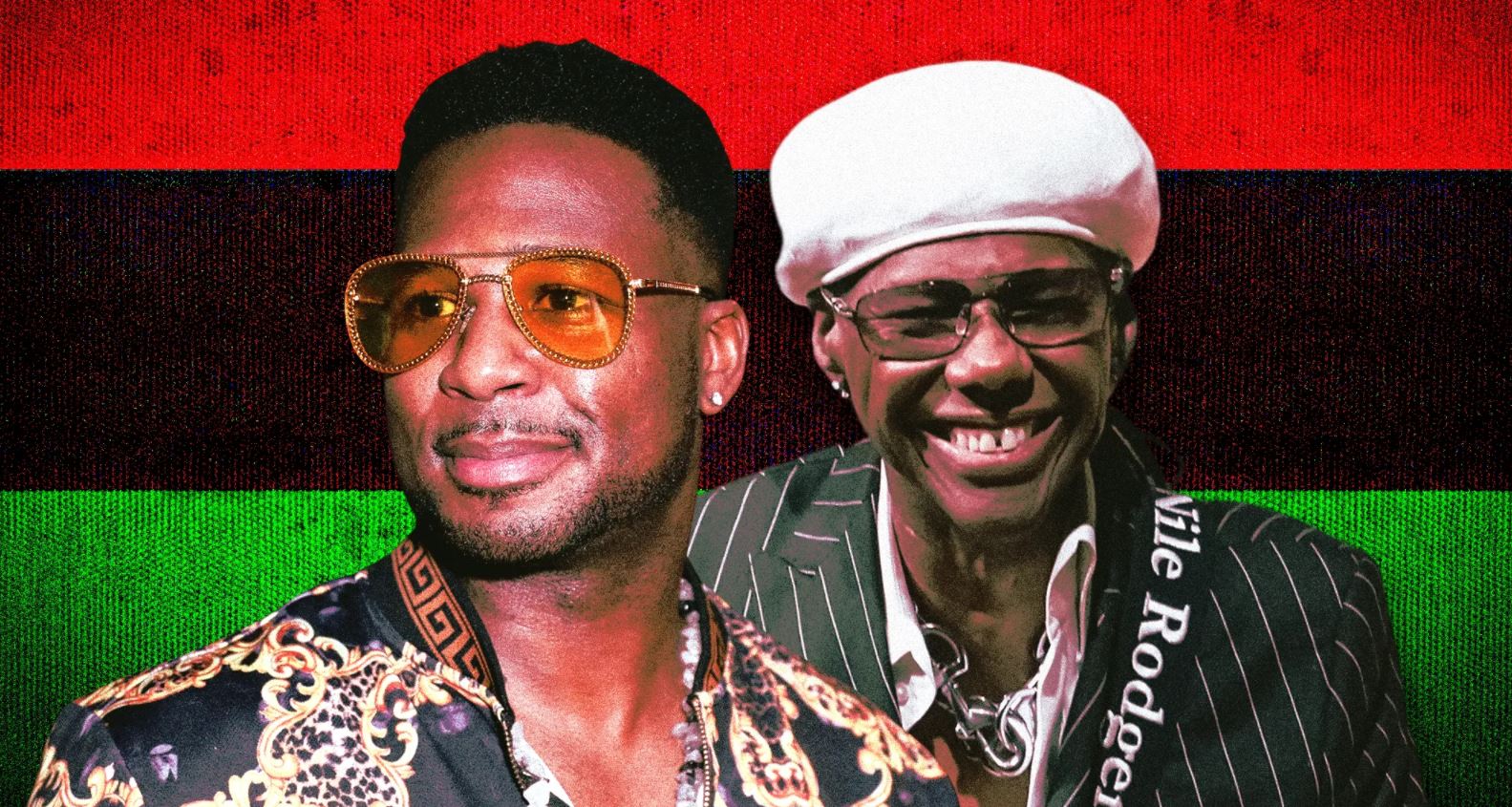 Nile Rodgers is a co-founder of the legendary disco band Chic, and a member (and current chairman) of the Songwriters Hall of Fame thanks to his wide-ranging catalog of hits for David Bowie, Diana Ross, and others. Robert Randolph is an outrageously talented pedal steel guitarist who's recorded six acclaimed albums with Robert Randolph & the Family Band, and was named one of Rolling Stone's 100 greatest guitarists of all time in 2003.
The two guitarists only met earlier this year, but there's already a warm rapport between them as they discuss Juneteenth Unityfest, Randolph's brainchild that will be streamed globally this Saturday, marks the emancipation of Black Americans who were enslaved until June 19th, 1865. Chic and Randolph are among the performers, along with Earth, Wind & Fire, Aloe Blacc, Keb Mo, Darius Rucker, Dave Matthews & Carter Beauford, Black Pumas, and many more, streaming from different locations across the U.S. The evening's program will also include an airing of Jimi Hendrix's historic 1970 Atlanta Pop Festival appearance, and featured speakers ranging from Billy Porter and Zach Galifianakis to Phylicia Rashad and Craig Robinson.
The duo, in New York for festival rehearsals, spoke with GQ on Monday via Zoom; Rodgers was surrounded by framed copies of some of his many hit records, and Randolph had a guitar by his side. We discussed music, their family histories, and the prospect of Juneteenth eventually becoming an official national holiday, none of us anticipating how soon it would be: on Tuesday night the United States Senate unanimously passed a bill making it a legal public holiday.
GQ: This is billed as the inaugural Juneteenth Unityfest, so I take it you're planning to make this annual?
Robert Randolph: Yes, we're going to do it annually. Next year and every year after that, pending another pandemic, which we hope to never see. But yes, this is the inaugural year that we've brought together so many different people that are a part of black culture: grassroots organizations, musicians, athletes, actors, actresses, civic leaders, youth, to all celebrate the historical context of where did we go after Juneteenth, and where are we going from here? And to talk about all of the different things that we have faced and overcome as Black Americans."
Had you guys worked together before this?
Nile Rodgers: It's funny that we met a couple of months ago, but it feels like we've known each other forever. Robert doesn't know this, but I stepped in on a rehearsal that he was doing years ago, Eric Clapton's gig at Madison Square Garden. I heard your [mimes playing guitar], I was like, 'Oh well, I'm done, don't need me here anymore!' But we didn't get a chance to talk because I was just sort of in and out.
But I have to tell you, since Robert and I hooked up, it's been nothing but love. I appreciate the effort that he's been making to put this together, which is just tremendous. In my family, we talked about Juneteenth in a very different way. We didn't call it Juneteenth, we called it Emancipation Day, because my great-great-grandmother was still alive and actually worked as a musician until she was like 104 years old. So she talked about back in the day and her mother being a slave. Originally they were slaves down in Georgia and they made it up to Philadelphia, they were sold and she was owned by an Irish man in Philadelphia. And after Emancipation Day, she left and moved to the state of New Jersey, my mother was born in Jersey City.
But they always talked about Emancipation Day as a real thing, something in my family that they had knowledge of, and they spoke about it in a very sort of emotional but entertaining kind of way. So as a young kid, I would hear it directly from my great-grandmother and my great-great-grandmother, and my grandmother and my mom. It was almost like a sitcom because my family loves to crack jokes. Not that slavery was funny, but she would make it very entertaining for us, and that's the other thing that I find really brilliant about what Robert's doing, by mixing entertainment with messaging, it becomes didactic and entertaining, you can actually capture the audience.
So by mixing music and comedy and storytelling and things like that, you just have a very robust program that's interesting for as long as we go. And then my organization, We Are Family Foundation, we're hosting the afterparty, so we're never gonna let you go. After it's over, it's still not over, and you'll hear stories from our kids called frontliners who are now community organizers on the frontline of the struggle now.
Nile, you always talk about the Deep Hidden Meaning in your music, that there's always something beneath the entertainment value. So Robert, when you curated the festival, did you tell the artists what kind of music to play or just tell them to do what they do?
Robert Randolph: It's funny you said that, because we kept going, "Oh, we can't have so-and-so be a part of this, because they're on the other side." And I would just always say on the call, "Are they Black?" This is the day that we're putting aside which 'side' are you on, politics and left and right and all of that, this is a day to commemorate and to talk about all of Black culture. Everybody here comes from that, the end of slavery, all Black Americans come from that. They have a story that their family comes from, just like the story that Nile just explained, just like my last name is Randolph, we come from the Randolph plantation in Virginia, that's just the way it is.
I never heard about Juneteenth in school growing up, but now my kids and hopefully more people of their generation will know. And it's good to have something like this with "unity" in the name and the theme of bringing people together. There's a right wing campaign now about "critical race theory" and saying it's divisive to talk about this in schools. They want to tamp down the history instead of being open about it.
Robert Randolph: It's just as simple as what Nile just explained. You cannot like Nile Rodgers and Robert Randolph without knowing their history and their story, and how they got here, and how his great-great-grandparents and how my great-great-grandparents all come from plantations, just like all of the 40-50 million Black Americans that are living here, this is who we are. I just saw a special on the whole 'critical race theory' thing yesterday, you just can't hide it anymore. You just can't hide stuff from the future, and the kids are gonna decide for themselves that they want to do something different, that's just the way of the world.
So by having all of our youth really understand the history of where we are, it will create a brighter future, we already know that. If you don't believe that, what inspired me was coming off of the tragic scene of watching George Floyd and watching as my grandmother said she'd never thought she'd see this day. When they were marching, it would be only some whites. Fast forward 50-60 years, there's hundreds of millions of Black and white people together marching for a better world.
You know what's crazy about this, I'm not trying to toot Nile's horn and all that, but if you just listen to the songs Nile's written and produced, they've all fallen into this inspiring category, he's been pitching his message forever.
I was listening to one of my favorite Chic songs, "At Last I Am Free," and I know it's not really about freedom in that way, but then maybe it is. There are songs that you listen to and they feel like they could mean so many different things.
Nile Rodgers: True. You know, I come from a culture where I was socialized to care about people, so I was a youth activist, honestly, when I was 11, 12. By the time I was 16, I was a subsection leader in the Black Panther Party. So I lived a life where I was helping people as far back as I can remember, because my mom taught me to live by the Golden Rule.
So when I became a professional musician, to write songs about the world that I saw, I also had to be cognizant of the fact that there weren't many lanes open to me. So it forced me to write from my heart and to be able to write in a sort of coded way, to use double entendre, to say one thing frontally but actually the real meaning was underneath, like a painting by Klimt. The soul was underneath the painting but the real painting was what people saw.
So a song like "At Last I Am Free," even though that was based on a real life incident that was sort of funny and tragic at the same time, I like the fact that you could see it as an anthem about freedom. And I like the fact that when I met Nelson Mandela, he told me that one of the most revolutionary things that he ever heard was "We Are Family." I was like, what are you talking about? I wrote "We Are Family" for Sister Sledge! And he said no, in South Africa, the prison guards played "We Are Family" on the white radio station, and he said the prison guards used to walk through the prison singing that they were gonna be a family with the Black girls. That was his interpretation, because he could hear that Sister Sledge were definitely Black, and the prison guards were jamming to it. And he said that that was so powerful to him, it made him feel like South Africa would not be under apartheid forever.
How did you get the Jimi Hendrix concert to be part of the show?
Robert Randolph: I really have no idea, that must have been God, because Jimi Hendrix don't do nothin' for less than a million dollars and we damn sure ain't come up with none of that. I've done many of the Experience Hendrix performances and things like that, and I called Janie Hendrix, who's Jimi's younger sister. After two minutes of explaining, she just went, "OK yeah, just send me what you need, I have all these different performances, just tell me what you want."
It's great that you're getting a whole spectrum of Black music in this.
Robert Randolph: You're getting everything here, we've compiled everything, and most importantly, combined all of these grassroots organizations of people who are serving their communities in every aspect. We have so many, so next year it'll be 10 times the size of that, because people kept calling—we don't have any more room, we don't have any space, all we can do is put you on a list! And that's what we want it to be, we want everybody. Ms. Opal Lee is a part of this show and she's been fighting for a number of years now for this to be a national holiday, so we all get to celebrate it together and have it officially be that.
Is everyone performing in the same place or are some performers on their own stages with the broadcast?
Robert Randolph: We're all gonna be scattered. We actually had a permit for the National Mall, to do it there, but you got into August, September, November, whatever, after that, that whole thing just fell apart, nothing was happening anywhere in D.C. So we had to stick with this platform for now. We have different studios set up, me and Nile and friends will be in Brooklyn, there'll be others in L.A., Texas, there'll be folks in Nashville, so it's kinda gonna give you that all over feel in a virtual setting with some amazing performances.
Nile Rodgers: We are doing some pieces that are actually produced but we also have live speaking. The whole concept is to inform and keep everybody entertained. The thing in the entertainment business that we all hate is what we call tune out. You're doing your thing and then somebody says "Oh, let me go check something else out." So we want to keep people tuned in as much as possible. We're just loading you with information and loading you with entertainment.
And I guess Zach Galifianakis is the token white guy.
Robert Randolph: You gotta have one or two, right? [laughs]