Robert Randolph Talks Juneteenth, Unity, & Helping Black Youths "Create Their Future" [Interview]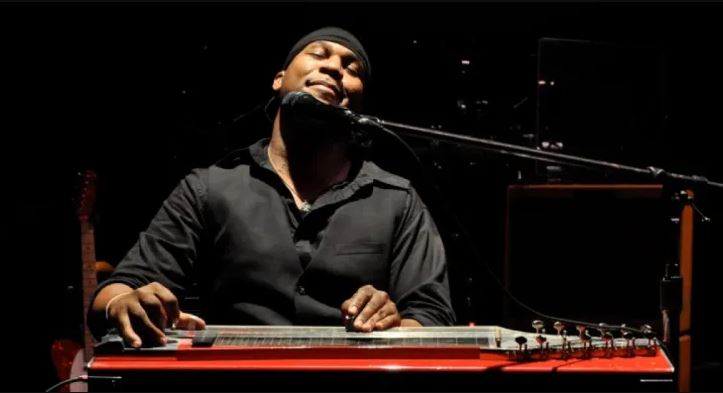 On June 19th, 2021, the Robert Randolph Foundation hosted the inaugural Juneteenth Unityfest, an all-star streaming event aimed amplify the discussion and celebration of Juneteenth, the holiday commemorating the symbolic end of slavery in America.
The event was initially conceived by pedal steel maestro Robert Randolph and his eponymous charitable organization as part of a larger cultural campaign to get Juneteenth recognized as a national holiday. By the time the date rolled around, however, the cries for recognition of this important celebration for the Black community had been met with some action.
As President Joe Biden explained after signing legislation designating Juneteenth (June 19th) as an official federal holiday for the first time, "All Americans can feel the power of this day, and learn from our history."
With the recognition portion of the mission already locked down, Robert Randolph and the long list of participating artists and organizations focused on the holiday's other, equally important elements: educating and celebrating.
The five-hour streaming event featured music and storytelling by Randolph as well as Earth, Wind & Fire, Black Pumas, Dave Matthews and Carter Beauford, Khruangbin, Aloe Blacc, Bebe Winans, Darius Rucker, Judith Hill, Phony Ppl, Michael Franti, Jimmie Allen, Keb' Mo', Nile Rodgers & CHIC, and more, helping to teach the masses about this long-overlooked milestone in our country's history and celebrate the vibrant culture that has blossomed in its wake. Even beyond that, the event served as a jumping-off point. From here, this holiday will become bigger, and its impact and message will only grow.
In the wake of the inaugural event, Live For Live Music caught up with Robert Randolph to discuss the complex significance of Juneteenth, its role in dictating the Black American experience for generations to follow, and why celebrations like Juneteenth Unityfest are so important to our growth as a society. He also clued us in on his new Create Your Future Program, part of a coalition of new grassroots initiatives working to make a difference in the Black community.
Watch a highlight reel from the inaugural Juneteenth Unityfest and read the full conversation with Robert Randolph below, edited for length and clarity.
Live For Live Music: Juneteenth Unity Festival was a huge undertaking. Can you tell us a bit about how that came together, the idea behind it?
Robert Randolph: It was actually a huge undertaking. We wanted to figure out a way to celebrate Juneteenth and have people learn about that day. But also knowing that Juneteenth was trying to push to be a holiday at the time, I figured it'd be a great day to galvanize many different Black actors, actresses, and musicians…
Live For Live Music: Why do you feel it's so important to educate people about the historical context of Juneteenth?
Robert Randolph: [Some people wonder], what are we fighting for? It's equality for all people, you know? People talk about Juneteenth being the end—"oh, it's the end of slavery"—but nobody ever really knows what happened next in history. So, especially because this was the first year, [we wanted to] not just use [Juneteenth], but be able to put the correct historical context into where people went, what was the history of it all?
Live For Live Music: It feels appropriate that you put an educational emphasis on the whole Juneteenth Unityfest campaign. That's the nature of what it celebrates, on some level—this wasn't the day slavery officially ended, this was the day that slaves in Galveston, TX finally learned they were free, more than two years after the Emancipation Proclamation was signed, more than two months after the Civil War ended. Things can change on paper, but without educating the masses, those changes are much slower in practice.
Robert Randolph: Yeah, and that's what we wanted to do. You see stories of the Tulsa race massacre and all these different things that happened and everybody's so shocked that they didn't know [about them]. There's a lot of people that don't know about that story, and it's not the only one. It's one of like 80 different stories that were exactly the same.
When you look at the Tulsa story, and Wilmington, so many others… I mean, as a Black person, especially among a family growing up in church, we know all of these stories. Our parents and grandparents and great grandparents would educate us on these stories, but then you go to school and it's not even mentioned.
Live For Live Music: It's true. People in different places, from different backgrounds, are still shown different versions of the narrative.
Robert Randolph: And don't forget, that's all by design. Because then, politicians and people signing bills can say … "What are those people complaining for? We've done them fairly." It's like, what? … When did that happen?
But look, so far in this world, we've come all this way, and I tell people it's almost God-sent. It's a miracle. What's crazy is it seems disturbing, all of the different things we look at on social media—whether it's racism or biases or bigotry—but it's like, we're now at the crossroads because you can't hide anything anymore. The internet and Facebook and social media now tell the story. These things were hidden forever, right?
Live For Live Music: Exactly. Word travels much faster in today's world. Some of these historical details were separated and segmented and obscured for so long, but now they're at everyone's fingertips.
Robert Randolph: What's weird about the story of Juneteenth is that that's pretty much as far back as anybody's Black history in this country goes. Everything else before, there is no story. My grandmother and them, even my parents, they have no knowledge of anything about the history of [our ancestors in] Africa, just because… we're Randolphs—we come from the Randolph plantation, and that's it.
I got Italian and Irish neighbors and friends and all that, and they're like, "Oh man, let me tell you, I went back to Italy and I… My great, great, great, great grandparents was so-and-so." You know, we don't have nothing of that. We go as far back as Juneteenth.
There is no such thing as your great, great, great grandparents if you're Black in this country. You know they were slaves, you know the horror stories. I knew my great-grandmother, she was born in 1889 and she died in 1991, right, so we knew her growing up. But if you asked my grandmother about her grandmother, there's no such thing to her but a story her mother told her. Before then, you were a slave. So there's no, like, family history.
My great grandmother, if you asked her about her sisters, everybody scattered. You left the plantation and you decided, "I'm going east, I'm going west." There's no TV, there's no internet. There's no, "Well, I'm going to go to California because I hear they got beaches out there," you know? [laughs] There is no knowing. You were a slave, you just stayed within that radius.
So, Juneteenth gives us this opportunity to really be able to tell these stories. And through all the hardship and the pain and the struggles, all of these success stories have happened in history too, right? I'm sure you watched the Juneteenth Unityfest and there was so much information you didn't know.
Live For Live Music: Absolutely.
Robert Randolph: Including myself, I didn't know a lot of that stuff. That's from the coalition of community partners that we formed and all the different museums and artists. And all of the artists you saw there, those were all the people that really wanted to be a part of it. Nile Rodgers [who played at Juneteenth Unityfest] himself has his own crazy family history.
Live For Live Music: When the inaugural Juneteenth Unityfest was planned, we were still in the era of the pandemic, of virtual events. In the time since, Juneteenth has been officially recognized as a national holiday and actual in-person concerts have once again become the norm. How will your mission change moving forward with subsequent years?
Robert Randolph: Next year we'll be live, and from many different locations. And the theme of the day is "everybody celebrate," because now it's a holiday, so everybody's coming together on that day to celebrate all of this history, this culture.
Live For Live Music: Now that it's no longer a fight to just get the day and its significance recognized, you can build it up, make it bigger, more special, make it encompass more.
Robert Randolph: Yeah, that's the plan. We're already sort of laying it out, we've got a map of where we're hosting all these live events and what we're doing. So it's going to be just a great day all around the world [going forward].
When you look at any holiday, no matter what the holiday is, that's how you wind up learning the most about that culture, right? [I'll see my neighbor] celebrating a Jewish holiday and I'm like, "So, tell me about why y'all are celebrating this day." And that's how you learn.
Live For Live Music: Teaching the younger generations is one of the main tenets of the Robert Randolph Foundation and your new initiative, the Create Your Future Program, which will aim to support underprivileged youth in exploring high-demand, high-salary, technology-based career paths through simulated work environments. Can you tell us about that?
Robert Randolph: We're launching it in Newark and most likely Brooklyn and the Bronx, too, and we basically wanted to create accessibility for all youth to be able to gain knowledge and skills that could help them transform their lives regardless of background.
Our neighborhood that we grew up in in Newark, we have three technology schools, which is great, but you tally that up and it's like 1,100 kids out of 15,000 kids every year that get access to technology like that. Probably all those kids have iPhones and all these things. Meanwhile, you go to India, you go to other places, you got kids learning how to build computers already at the age of 10. So as we're moving into the future, we want to equip these kids to be able to do that.
We've also implemented a major film and TV curriculum into that. We partnered with the Newark Film Festival's existing program [to help take people from the] community and train them up to be able to work in film and TV. You look at all of these documentaries now, and the power of streaming, and Netflix, and there's a big void [of trained workers]. So the fact that we get to launch that and really scale it and have thousands of kids all around the country have access to that is huge.