Robert Randolph Foundation's Inaugural Juneteenth Unityfest Brings Music's Biggest Names Together For a Groundbreaking Celebration of Music and Culture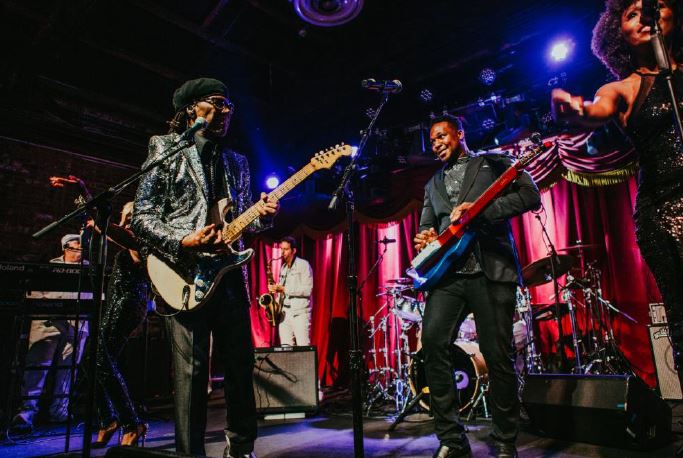 On Saturday, June 19, the inaugural Juneteenth Unityfest presented by the Robert Randolph Foundation brought together a star-studded lineup of artists, influencers, activists and sponsors for a virtual festival.
During the five-plus hour program, the live stream was seen by over 1.1 million viewers on several platforms including LiveXLive, Ebony.com and YouTube. Taking place just two days after Juneteenth was signed into law as a federal holiday, this year's celebration was especially joyous and served as a tribute to the breadth and depth of Black culture and Juneteenth as a uniquely American experience. The entire festival is available now via the official website and YouTube until Monday, July 19.
To view the program please visit: Robert Randolph Foundation YouTube Channel, LiveXLive or www.juneteenthunityfest.com.
"I saw Juneteenth as a day to come together as Black Americans first, and as Americans – to talk about our history, our struggles, and what we have accomplished. We are beyond grateful to all the artists, celebrities, grassroots organizations, and sponsors who helped us create a space to celebrate and reflect on what it means to be Black in America. Most importantly, Juneteenth Unityfest provided an essential platform to unite a coalition of charitable grassroots organizations bringing together diverse voices in commemoration. The Robert Randolph Foundation is committed to continuing to unite and amplify the efforts of these amazing grassroots organizations so that they can continue making progress in our communities. We are excited for Juneteenth Unityfest 2022, where we will be live across the country celebrating. In the meantime, I encourage you to watch this year's Juneteenth Unityfest here," said Robert Randolph, founder of the Robert Randolph Foundation and Festival founder and chairman.
The celebration kicked off with a stirring recording of Jimi Hendrix's "Star Spangled Banner" from his historic 1970 Atlanta Pop Festival appearance. Symbolic of the cultural shift in the mindset of the nation at the time, the performance was a perfect introduction to reflect the power and influence of Black voices and how they have impacted the course of American history.
Following the recording, the live performances kicked off with Nile Rodgers & CHIC who brought the energy with the timeless hit single, "Good Times." Festival founder and chairman, Robert Randolph then welcomed viewers before turning the program over to host: actress and author Amanda Seales.
One of the highlights of the night were the remarks made by Ms. Opal Lee who attended a Juneteenth Unityfest watch party with community partner and sponsor, Heal America. Lauded as the 'Grandmother of Juneteenth,' the 94-year-old activist's commentary embodied the enthusiasm, determination, and relentless perseverance she exhibited to preserve the significance of Juneteenth. Having stood in the White House just days prior, witnessing her life's work come to fruition, the weight of her words were incredibly emotional and provided a moment of reflection on how far the nation has come, and a reminder of the work there is left to be done.
"I am heartened by the millions of Americans who observed Juneteenth, many for the first time," said Dr. DeForest Soaries, co-chair of Heal America, a movement to fight racial injustice with love and redemption, which sponsored Juneteenth Unityfest. "We hope the enthusiasm surrounding this year's Juneteenth Unityfest marks the beginning of the healing that is to come. This is a sign to all of us that through a day of remembrance, commemoration, and celebration, we can continue to make meaningful progress in this country toward liberty and equality for all."
There was no shortage of talent as the night blazed on with outstanding performances by: India Arie, Ledisi, Darius Rucker, Judith Hill, The Soul Rebels, Earth, Wind & Fire, Bebe Winans, Aloe Blacc, Keb' Mo', Black Pumas, Khruangbin, Jimmie Allen, Phony PPL, Shelea, Korean Soul, Michael Franti, and Dave Matthews & Carter Beauford.
Later in the show, Amanda turned hosting duties over to comedian, JB Smoove, who provided his unique brand of humor into the production. Celebrity spotlights highlighted the significance of Juneteenth in between performances, with appearances by: Van Jones, Jesse Williams, LeVar Burton, Billy Porter, Wilson Cruz, Houston Mayor Sylvester Turner, Zach Galifinakis, Wayne Brady, Aisha Tyler, Jon Hamm, and Roger Guenveur Smith. Lynn Nottage, Holly Robinson Peete, and Djimon Hounsou also made appearances, sharing personal anecdotes about what the holiday means to them.
Highlights from the event included:
Phylicia Rashad from the landmark Stevenson Ranch
Lucky Daye performed, presented by Crown Royal Regal Apple
We Are Family Foundation (WAFF) spoken word performances
Achievement and Challenges of being Black in Sports with Washington Football Team President Jason Wright, Olympic great Gail Devers, and Tennis Icon Zina Garrison
Cultural moments with Craig Robinson on "Code Switching" and its relevance and necessity
The landmark event closed with final remarks by Robert Randolph, followed by another recording of Jimi Hendrix, performing "Purple Haze" at the 1970 Atlanta Pop Festival, which brought the event full circle. Finally, Nile Rodgers & CHIC played the festival out with a performance of "We Are Family," summing up the sentiment of unity felt by performers and viewers alike.
Juneteenth Unityfest was made possible by phenomenal sponsors and partners like Heal America, a movement to fight racial injustice, EBONY as the official media partner and LiveXLive as the official streaming partner. Additional sponsors included: Amazon, Crown Royal Regal Apple, the NFL's Inspire Change initiative, and P&G's Widen The Screen initiative. Getty Images and OWN also provided special content. You can view all images from Juneteenth Unityfest courtesy of Getty Images here.
A significant portion of the content and context for the festival came from the 35+ community partners who shared their stories about their contributions to the culture. Participating organizations included: AARP, African American Museum in Philadelphia, Benedict College, Heal America, Urban Specialists, Frederick Douglass Family Initiatives (FDFI), Hip Hop Caucus, HOLA, Invisible Warriors, Jobs For The Future (JFF), The Links Incorporated, Mile High United Way, Muhammad Ali Center, The National Juneteenth Observance Foundation, The Rock & Roll Hall of Fame, Umoja Events Juneteenth NYC Festival, Unity Unlimited, Inc., Usher's New Look, and We Are Family Foundation.
Juneteenth Unityfest was produced by Empire Entertainment in collaboration with Red Light Management with creative direction and head writing by Paul Oakley Stovall.
For more information on Juneteenth Unityfest, presented by the Robert Randolph Foundation, visit www.juneteenthunityfest.com or follow on social media, including Instagram, Twitter and Facebook.
About Juneteenth Unityfest
Founded in 2021, Juneteenth Unityfest is an annual event presented by the Robert Randolph Foundation, a (501)(c)(3) organization that strives to bring together diverse voices in commemoration and celebration of Juneteenth and Black culture, both significant contributors to the vibrancy of American history and culture. Juneteenth Unityfest also serves as a national platform for a coalition of charitable and grassroots organizations to amplify their missions and bolster support for their work in advancing national unity.
About the Robert Randolph Foundation
The Robert Randolph Foundation is the brainchild of celebrated African American artist Robert Randolph. As a man with a long history of community involvement, Robert has remained passionately committed to programs and initiatives focused on family support and development. This passion inspired him to create this foundation as a skill development platform for youth from all walks of life to gain knowledge that can transform their lives regardless of their cultural, social, or racial backgrounds. Through the power of community, education, music, and arts, the Robert Randolph Foundation is creating better possibilities for brighter futures.
www.robertrandolphfoundation.org
About Empire Entertainment
Empire is one of the world's leading event, broadcast and virtual production companies. Headquartered in New York and Tokyo, with offices in Los Angeles and Hong Kong. In its three decades, Empire has worked in over 100 countries and produced such events as the Time 100, Tribeca Film Festival, The Ebony Power 100, Alicia Keys' Black Ball, Oprah Winfrey's Legends, O Magazine's 10th Anniversary, The New York Times Food Festival, The Webby Awards, Harper's Bazaar Icons and The Skoll World Forum.
www.empireentertainment.com
About EBONY
Now in its 75th year, EBONY continues to be the leading authority for all facets of Black life – staying rooted as an anchor of Black culture. Under new ownership and leadership, the rebirth of EBONY signals the evolution of the beloved publication as a 21st century digital media brand with a focus on creating exceptional content and experiences illuminating the Black perspective.
About LiveXLive Media, Inc.
Headquartered in Los Angeles, California, LiveXLive Media, Inc. (NASDAQ:
LIVX
) (the "Company") (pronounced Live "by" Live) is a leading global all-in-one streaming artist-first platform delivering premium music and entertainment content and livestreams from the world's top artists, expertly curated streaming radio stations, podcasts, and original video and audio on-demand content, as well as personalized merchandise, connecting artists to millions of fans every day. The Company has streamed over 1,800 artists since January 2020 and has created a valuable connection between bands, fans and brands by building long-term franchises in audio, video, podcasting, pay-per-view (PPV), live streaming, and specialty merchandise. LiveXLive is available on iOS, Android, Roku, Apple TV, and Amazon Fire, and through OTT, STIRR, Sling, and XUMO, in addition to its own app, online website and social channels. The Company's wholly owned subsidiary
PodcastOne,
generates more than 2.25 billion downloads per year with 400+ episodes distributed per week across a stable of hundreds of top podcasts. The Company's other major wholly owned subsidiaries are
LiveXLive,
Slacker Radio
,
React Presents
and Custom Personalization Solutions. For more information, visit
www.livexlive.com
and follow us on
Facebook,
Instagram,
TikTok
and
Twitter
at @livexlive.
About Heal America
Heal America
is a movement to fight racial injustice with love and redemption. Grown from a series of local events hosted by Urban Specialists in partnership with Stand Together, Heal America brings tools, resources, and solutions to local changemakers who dedicate their lives to eliminating injustice. With the passing of Heal America's founder Bishop Omar Jahwar in March 2021, Urban Specialists, Stand Together, and thousands of advocates committed to carry forth his vision and be relentless in our pursuit of solutions to racial injustice. Visit
www.healamericamovement.org
and follow us on
Facebook,
Instagram,
and
Twitter
at @joinhealamerica.
About Amazon
Amazon is guided by four principles: customer obsession rather than competitor focus, passion for invention, commitment to operational excellence, and long-term thinking. Amazon strives to be Earth's Most Customer-Centric Company, Earth's Best Employer, and Earth's Safest Place to Work. Customer reviews, 1-Click shopping, personalized recommendations, Prime, Fulfillment by Amazon, AWS, Kindle Direct Publishing, Kindle, Career Choice, Fire tablets, Fire TV, Amazon Echo, Alexa, Just Walk Out technology, Amazon Studios, and The Climate Pledge are some of the things pioneered by Amazon.
About Crown Royal
Crown Royal Canadian Whisky is the number-one selling Canadian whisky brand in the world and has a tradition as long and distinctive as its taste. Specially blended to commemorate a grand tour of Canada made by King George VI and Queen Elizabeth of Great Britain in 1939, Crown Royal's smooth, elegant flavor and gift-worthy presentation reflect its regal origins – it is considered the epitome of Canadian whisky.
Crown Royal Regal Apple has a vision to empower and enable the next generation of artists, creatives and athletes and is doing so by creating experiences that help to push culture forward in a fresh new way, while giving back to local communities.
For more information, visit www.crownroyal.com. Crown Royal encourages all consumers to please enjoy responsibly.
About Diageo
Diageo is a global leader in beverage alcohol with an outstanding collection of brands including Johnnie Walker, Crown Royal, Bulleit and Buchanan's whiskies, Smirnoff, Cîroc and Ketel One vodkas, Captain Morgan, Baileys, Don Julio, Tanqueray and Guinness.
Diageo is listed on both the New York Stock Exchange (DEO) and the London Stock Exchange (DGE) and our products are sold in more than 180 countries around the world. For more information about Diageo, our people, our brands, and performance, visit us at www.diageo.com. Visit Diageo's global responsible drinking resource, www.DRINKiQ.com, for information, initiatives and ways to share best practice.
Follow us on Twitter for news and information about Diageo North America: @Diageo_NA.
About Getty Images
Getty Images is one of the most trusted and esteemed sources of visual content in the world, with over 435 million assets including photos, videos, and music, available through its industry-leading sites www.gettyimages.com and www.istock.com. The Getty Images website serves creative, business and media customers in nearly every country in the world and is the first-place people turn to discover, purchase and share powerful visual content from the world's best photographers and videographers. Getty Images works with over 360,000 contributors and hundreds of image partners to provide comprehensive coverage of more than 160,000 news, sport and entertainment events each year, impactful creative imagery to communicate any commercial concept and the world's deepest digital archive of historic photography.
About the NFL's Inspire Change initiative
The NFL's Inspire Change initiative represents the collaborative efforts of players, teams, and the League to acknowledge the ways systemic racism contributes to barriers to opportunity and equality. The work encompasses programs and initiatives in four key areas: education and economic advancement, community and police relations, and the criminal justice system. #InspireChange
About P&G's Widen The Screen initiative
Widen The Screen is an expansive content creation, talent development, and partnership platform that celebrates creativity and enables Black creators to share the full richness of the Black experience. Only when we Widen The Screen to Widen Our View can we all broaden the spectrum of the images we see, the voices we hear, the stories we tell, and the people we understand. Visit
https://us.pg.com/widen-the-screen
for more information.